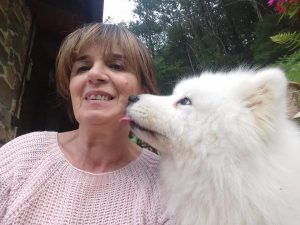 Graduated in Pedagogy from the University of Verona with a thesis regarding Therapy Dog.
Samoyed breeder since 1978 with "del Corno Bianco" affix.
She is an ENCI / FCI international judge, she has judged in Australia, England, Ireland, Czech Republic and Italy.
She has produced numerous Beauty Champions including 1 World and 1 European.
She has written 3 books on the Samoyed breed, with attention to history, morphology and character; numerous articles on the Samoyed breed for the ENCI magazine, called "I Nostri Cani" and is an expert in Canine Psychology and has written numerous articles for the ENCI magazine "I Nostri Cani".
She works at the editorial staff of ENCI – "I Nostri Cani" from 2008.
She deal with Therapy Dog as a teacher and trainer, and responsible for projects in the area.
Over the years, 5 "del Corno Bianco" Samoyeds have participated in Therapy Dog projects in schools, retirement homes for the elderly, people with physical and psychiatric disabilities.
She has written several books on Dog Education and Training and 1 on Therapy dog; recently, 1 on Dog Abandonment and 1 on Autism.